Ah yes!!!
I have finally got the balls to purchase this FANTASTIC, AMAZING, SEXY...hand bag :D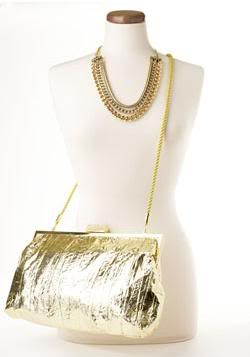 It is made by this fantastic melbourne designer,
House of Baulch
. Any way I have been eyeing this piece for months, and got the guts and the cash so yay! I met Kathryn at the
Hello Sailor Vintage Fair
back in November and she was so delightful!
Today I actually bought a gold jeweled belt today at Idaho Vintage in St Kilda and that was a totally bargain- $20 I don't think the sales assistant knew the real price, because it didn't have a tag! So that would actually match perfectly!
Yes I know my gold obsession is slowly coming out.... :D
Thats it from me, thanks for reading!
Caroline x